ENSURES SAFETY OF ALL RIDERS
With BOOMA, you'll never have to worry about losing the reins or the reins entangling your horse (ideal for beginners, experts and competitors)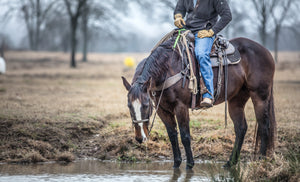 WON'T RESTRICT YOUR HORSE
REINS ARE ALWAYS ACCESSIBLE
With BOOMA, you can let go of the reins to take a picture, check your phone or help a fellow rider and your reins will still be there.
Testimonials
Vanessa
Booma Rein sure helped my daughter, Madeline this past weekend. Her horse slipped at the third barrel. Her mare also has the habit of pulling reins away while standing. We've had lots of parents ask about Booma Rein and we tell them all about it!
Shannon Brown Silva
While we were riding in the Bluffs of Nebraska, through the trees, the branches caught my reins & pulled them from my hands!! Because of my Booma Rein, I was able to retrieve my reins right away and gain full control of my horse!! It was such a comfort in knowing, that I had it as a safety device!! Not only could I retrieve my reins should something unexpectedly happen & I lose them, I could also allow my horse to eat and drink without straining myself, knowing that I could retrieve my reins at any moment after letting them go.
Patrick L. Kroese
As a cattlemen moving cattle or fixing fence on horse back, there are several scenarios where you my have to open gates on the run, dismount to catch a calf and the Booma Rein becomes a lifesaver to keep your reins in the proper place.
Gwenn W. Aspen
I LOVE my Booma Rein! I won't let the kids or anyone ride without it. It is easy to use and keeps you from losing your reins. I feel so much safer riding with it.
Jeremy Aspen
So I'd obviously never used anything like this product before, but now…not riding without them. Especially when I'm riding with my little ones, it's just one less thing to have to worry about while riding. Love them!!!
Robin Camenzind
Love it! Taking pictures, etc., I don't have to worry about reins. Grandkids use mine and never have to worry about dropping reins.